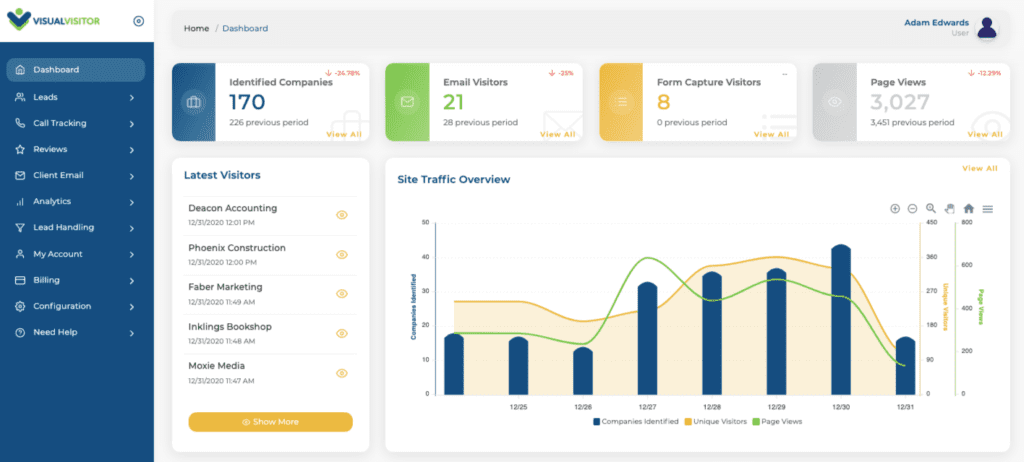 The term white labelling refers to the practice of reselling a product with your own branding. For all intents and purposes, the product appears to have been created and distributed by your business. In the marketing landscape, white labelling is incredibly common. Software that helps you manage your clients' marketing strategy can be white labelled. This allows your client to monitor your progress and have a clearer understanding of the steps you're taking on their behalf. It also helps your clients pursue their own marketing goals.
What Kinds of Marketing Software Can Be White Labelled?
At Visual Visitor, we offer a wide range of products that can be white labelled. We understand that not every marketing agency-and not every small busines-is working towards the same goal. That's why we've developed tools with different targets in mind.
In particular, our software is designed to help you:
Generate more sales.
Increase visibility.
Strengthen marketing.
Earn a higher ROI.
Which product is tailored to your goals?
If you manage email campaigns, consider email tracking. This allows you to find out if and when your email has been opened. More precisely, email tracking tells you who clicked on your email, when they read it, and how many times they looked at it. You can also take advantage of our tag button to receive an alert every time a tagged visitor returns to your website.
If you pay for ads, consider keyword level call tracking. This process works by assigning a unique phone number to each ad. As a result, every time your client receives an inbound call, you can attribute it to a specific ad. This software is particularly helpful if you want to cut down on marketing spending. Once you've identified effective ads, you can cut the rest.
If your clients are interested in finding more leads, consider website tracking. When companies browse a website, our tracking software determines who they are and takes note of which pages they're viewing. Not only does website tracking uncover more leads-it also helps you to sort the good leads from the bad. Visitors who spend a lot of time on a site are promising leads whereas visitors who click away after viewing a home page are less so.
If you're trying to grow your clients' reputation, consider review tracking. Our fully automated platform allows you to request, respond to and share online reviews. Instead of managing multiple review sites individually, access all of your clients' reviews in one place. With the click of a button, you can even post a review directly to your clients' website. Increasing a business' visibility is easy when you use Visual Visitor.
The best part is you don't have to choose! Turn these on and off on a per client basis.
Are you interested in white labelling marketing software? Read more about our reseller partnerships here. And sign up for our free trial by clicking here. Find out how we can help you achieve your marketing goals.