The B2B Sales Intelligence Platform
to Win more Deals in Less Time
Accelerate your sales pipeline with Visual Visitor's Platform that combines B2B intelligence and company contact data with engagement software, and cutting edge identification tools.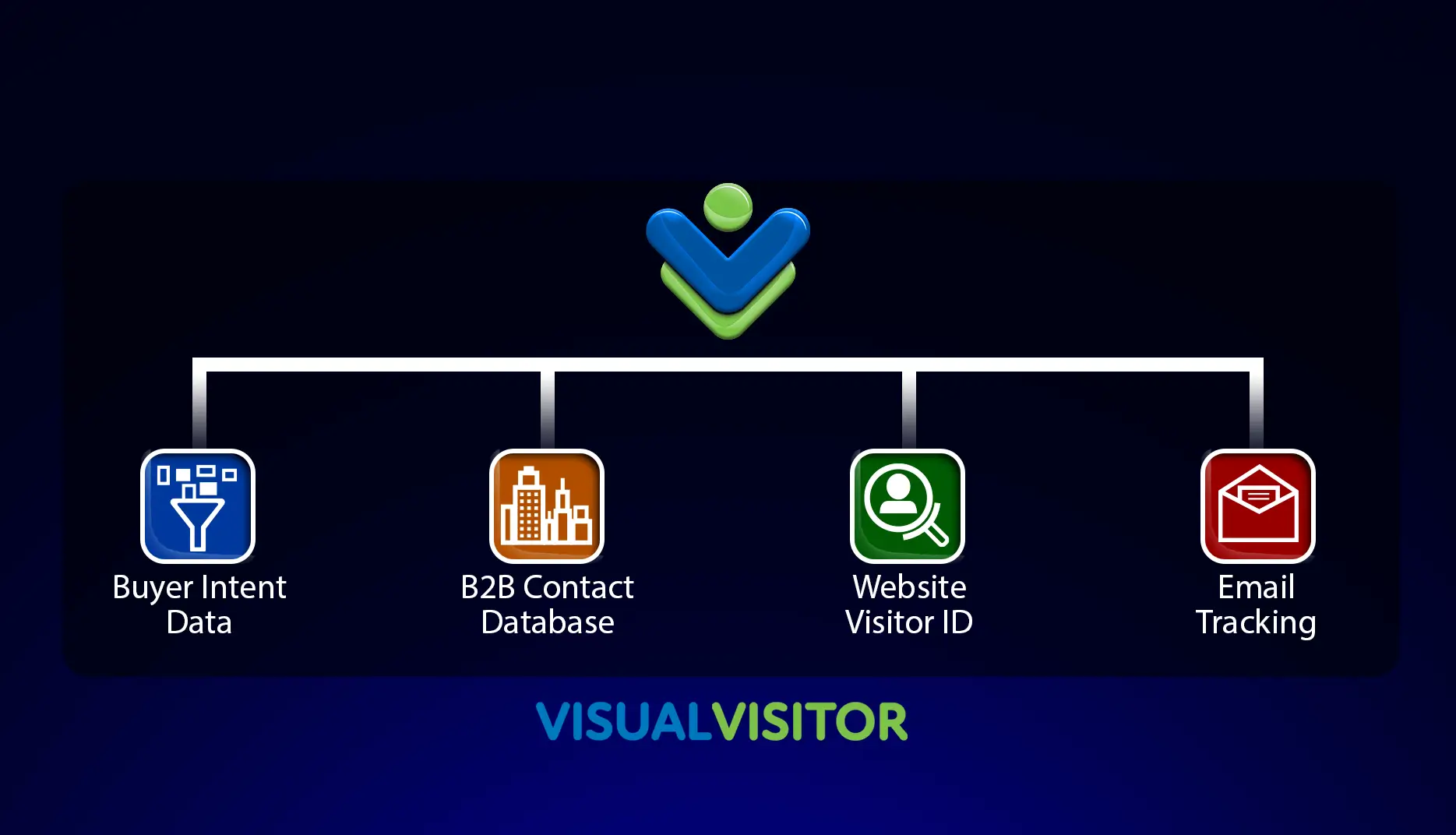 Grow Your B2B Sales Pipeline
Starting at $149 a Month
Leverage the Richest B2B Data in the Market
36% of sales go to the vendor that responds first
The buying journey is no longer a linear path. Instead there are curves, turns and twists throughout various phases of the sales cycle. The good news is that all of this activity creates 'Digital Footprints". Our Sales Intelligence Platform gathers digital footprints of B2B buyers.
The digital footprints left behind by your B2B buyer creates the opportunity to shed light on your potential prospects earlier in the buying cycle. We are able to identify who is shopping for your product or service.
This means your sales team has the opportunity to reach the prospect much earlier in the buying process. We call this Prospecting Magic!
Learn More
Reduce Prospecting time by as much as 80%
42% of sales reps named Prospecting as the most challenging stage of the sale process.   They attribute these as the top issues:
Buyers  engaging with sales later in process

Modern, digital, independent buyer

Buyer journey is no longer linear

Data decay 

Covid-19 has only accelerated these challenges.
Give your sales reps the gift of Sales Intelligence and reduce prospecting time by as much as 80%
Learn More
Uncover Your Hidden Leads
We help you get more leads from the traffic you already have. Did you know that 98% of the visitors to your website simply leave without ever contacting you? We help you identify who these visitors are in realtime.
We deliver this information in real-time alerts. Here are just a few of the data points we provide to you and/or your sales team:
Company Name, Address, Location
Pageview details and time spent detailing the buyer's interest
Possible Contacts – Names, Titles, Phone Numbers, Email Address
Keyword & Referral Source
Campaign Information.
All of this information also integrates within our other features to give you a well rounded understanding of which prospects are ready to buy!
Learn More
Prospects not responding?
It is like a crystal ball for your sales efforts. At its heart, Email Tracking can give you actionable insight into what happens after you hit send.
Even better, you get detailed information about each open, including:
Who opened it
When they opened it
Where in the world they are located
Even how many times…. every time they open your email
Even give you indication that they forward your email
You will know every time they visit your website and what they did while there.
This works not just email marketing tools, but also with individual emails sent from Google or Outlook.
You now have very powerful information about your prospects. This will allow you to make decisions on how and when to follow up, allowing you to create a bulletproof system for following up and maintaining contact. Ultimately, you'll be able to increase the number of sales you make!
Learn More
Our Platform answers 4 Primary Questions For Sales Teams
Customer Reviews From Around the Internet
"Visual Visitor Rocks!" What do you like best?
The intent data is their best feature in my opinion. I get a... read more What do you like best?
The intent data is their best feature in my opinion. I get a daily report with new leads who have exhibited intent signals and match my Ideal Customer Profile. When I click on one of these leads in Visual Visitor, it gives me information about the business, its employees, and their online behavior (i.e. whether or not they've engaged with my keywords). This is a terrific feature for people who work in sales. Although I get more use out of the contact database (aka prospecting data), the intent data helps me zero in on the leads that are most likely to become clients.
What do you dislike?
Nothing stands out to me as a dislike. The products work as `advertised and the staff is helpful and efficient. If I had to come up with something, I'd say that there is a lot to wrap your head around in Visual Visitor. To optimize results, you need to test out each feature and adjust as necessary. The intent software lets you drop and replace keywords that are underperforming - make sure you take advantage of this function if you're running custom intent campaigns.
Recommendations to others considering the product:
-Monitor the progress of your custom intent campaigns. If you aren't finding many leads, ask their support team for help - they're awesome..
-If you're having technical trouble, submit a support ticket. They respond almost immediately and, if you're anything like me, you'll get more out of a conversation with Casey or Angelo than you will by reading support articles.
-Remember to hit the tag button when you send out emails. It doesn't happen automatically.
What problems are you solving with the product? What benefits have you realized?
I signed up for Visual Visitor primarily for prospecting reasons. Their sales rep, Thomas, stressed the convenience of having contact data on hand and I absolutely agree. Visual Visitor's database lets you search for contacts in any industry, worldwide. In terms of cold calling and cold emailing, it's my go-to resource for contact info. That being said, my favorite feature is the intent data. I work in equipment leasing and being able to track companies that are searching terms like "construction equipment financing" has been a tremendous help. As a bonus, it also lets you track companies that are searching for your competitors - not something I was expecting. Although lead generation is the primary benefit I get out of Visual Visitor, it also offers a few tools which help with lead nurturing, like the email tracking plugin and website visitor identification software. Overall, it's an effective, well-designed platform. I highly recommend it.
read less
"What an incredible sales and marketing tool!" What do you like best?
All of the data is stored in one place. I log in to... read more What do you like best?
All of the data is stored in one place. I log in to Visual Visitor and I can see our website traffic, email open rate, and the intent shoppers searching for my products online. I was using MailChimp before for email tracking but I prefer using 1 app for all my sales tools. As a salesperson, I rely on great information and timing. This tool gives me access to both. My customers benefit greatly as a result of the information I receive from Visual Visitor.
What do you dislike?
I've found nothing that I dislike in this program. I have been using Visual Visitor for several years, and they just keep offering more impactful data.
Recommendations to others considering the product:
Request a demo from the company.
What problems are you solving with the product? What benefits have you realized?
Visual Visitor is a solid all-in-one platform for sales intel. The intent data feature is top-notch. The data is accurate and presented in a way that's easy to understand.
read less
It's a terrific alternative to ZoomInfo at a lower price point. I'm really happy we made the switch. The amount... read moreIt's a terrific alternative to ZoomInfo at a lower price point. I'm really happy we made the switch. The amount of data they collect is impressive. read less
Recent blogs
Browse our blog for lead generation tips that we've seen work!
Visual Visitor's Sales Intelligence Platform In today's business world, hitting your sales goals is essential...