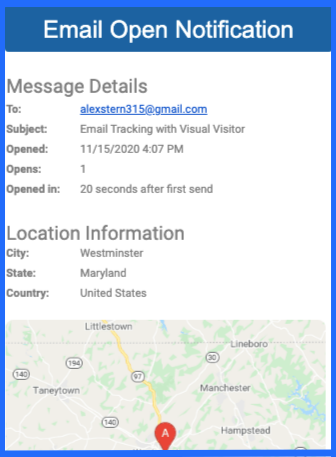 Increasing your sales should never come at the expense of alienating your current customer base. Why? Repeat customers play a vital role in keeping your company afloat. Plus, it's cheaper and easier to solicit a sale from a former customer than from a new one.
But how do you keep your current customers engaged with your business? The first step is maintaining a constant channel of communication. And the best way to do that is through email. Not only is it wide-reaching, it's also cost-effective. And it receives a high engagement rate.
Tips for Email Marketing
Here are a few things to keep in mind before you start initiating email campaigns:
Do maintain a consistent schedule.
Don't use a lot of dense text.
Do include a call to action.
Don't forget to thank your loyal customers.
Do encourage recipients to follow you on social media.
Don't spam customers with daily emails.
Do include an unsubscribe button.
Email Tracking for Customer Acquisition and Retention
Visual Visitor can help you organize and monitor email campaigns. Our email tracking software lets you know if and when your email has been opened. In other words, it tells you which customers are still engaging with your business. The best part is you can use it for both individual emails and mass emails. Keep tabs on your current customers and prospects.
Take advantage of our "Tag" button to track individual customers. Every time a tagged visitor returns to your site, you'll receive a notification. And you can find out which pages on your site they're browsing. Measuring a customer's interest has never been easier.
Your sales staff can use email tracking to identify hot leads. A hot lead will not only read your email but also spend time browsing your site.
If you're working on customer retention, you can use it to determine which customers are still interested in your business.
Accounts Receivable employees can track their emails to find out if the recipients are ignoring them.
And regardless of who you're sending it to, Visual Visitor can help you automatically insert template messages into the body of an email. Once you've downloaded our extension and composed a template message, all you have to do is select the template icon to insert it into an email.
Our email tracking feature helps you find new customers and keep your old ones. Sign up for our free trial today and find out which customers are still interested in your business-and which ones could use extra attention. Click here to sign up.