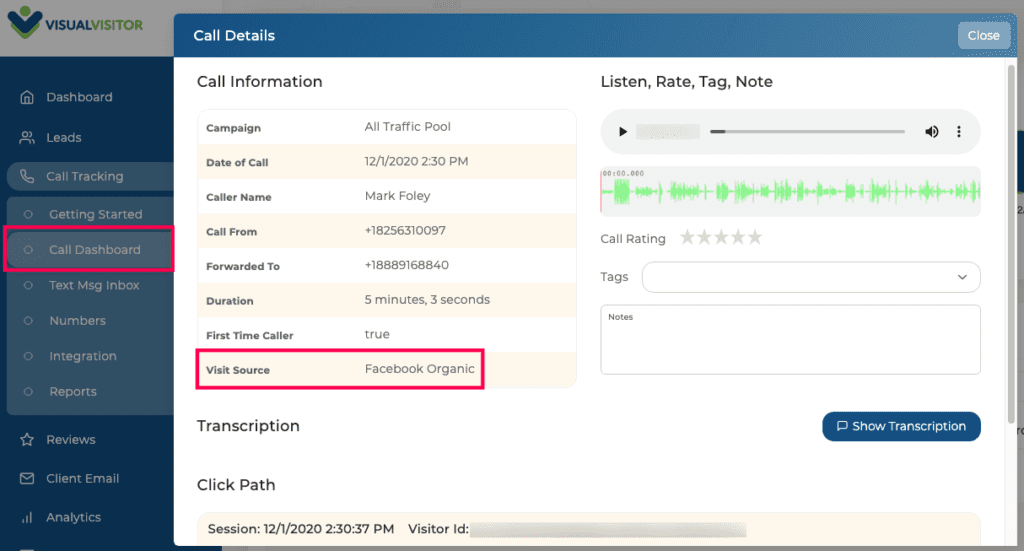 Over the years, the marketing landscape has expanded to include digital, as well as traditional, advertising platforms. Consequently, businesses have more choices than ever about how and where to advertise their products. Investing in effective ads and eliminating their ineffective counterparts rest will give you the greatest ROI. But how do you identify these elusive successful ads?
By tracking your calls, you can determine which ads are worth the money. Call tracking works by assigning different phone numbers to each advertising source. Every time a customer calls using one of these numbers, you'll know which referral source inspired their call. This allows you to keep track of which ads are driving phone calls and leading to sales.
Some companies which offer call tracking only register a small portion of inbound calls. Google, for example, only replaces and tracks the phone numbers on Google My Business listings. Visual Visitor can help you track all of your inbound calls, not just the ones inspired by Google. Our software can track phone numbers listed on the following platforms:
Google Organic
Google My Business
Google Adwords
Facebook Advertising
Facebook Organic
Twitter
Youtube
Bing Organic
Bing Local
Bing Paid
Yahoo Organic
Yahoo Local
Direct
Ad Extension
Television
Radio
Print
Email
Website
Got other ideas? I bet we can track there as well… just ask us.
Visual Visitor not only tracks ads and marketing platforms. We also trace keywords. Keyword level call tracking tells you which keywords are generating phone calls. With Visual Visitor, you'll know which advertising channels and which keywords are earning you business. Investing in these-and cutting the rest-can save you thousands each month.
Interested in Perfecting Your Marketing?
Visual Visitor helps you determine which advertising works best for your business. And that's not all we can tell you. Our software can answer the following questions:
How are customers finding you?
Which keywords are driving calls?
What's your marketing ROI?
Which ads are driving calls?
How can you save money?
Your marketing team will benefit enormously from knowing the answers to these questions. They can use this information to invest strategically. In other words, call tracking helps you improve your marketing and save money at the same time.
Our tracking phone numbers are so inexpensive you are going to wonder why you did not start tracking sooner. Additionally, we work with any phone system and any website platform.
Interested? Sign up for our 14-day free trial by clicking here. Discover which keywords and ads are worth the investment.