Apr 20, 2022 |
5
minute read
Reading Time:
5
minutes
Using the internet to research products and services has become the norm. No longer do we pick up the phone and call our sales rep. Instead, we grab our phones, laptops, or whatever device we use and go online to research. This dependence on the internet for researching materials has changed how we outline our content marketing strategy.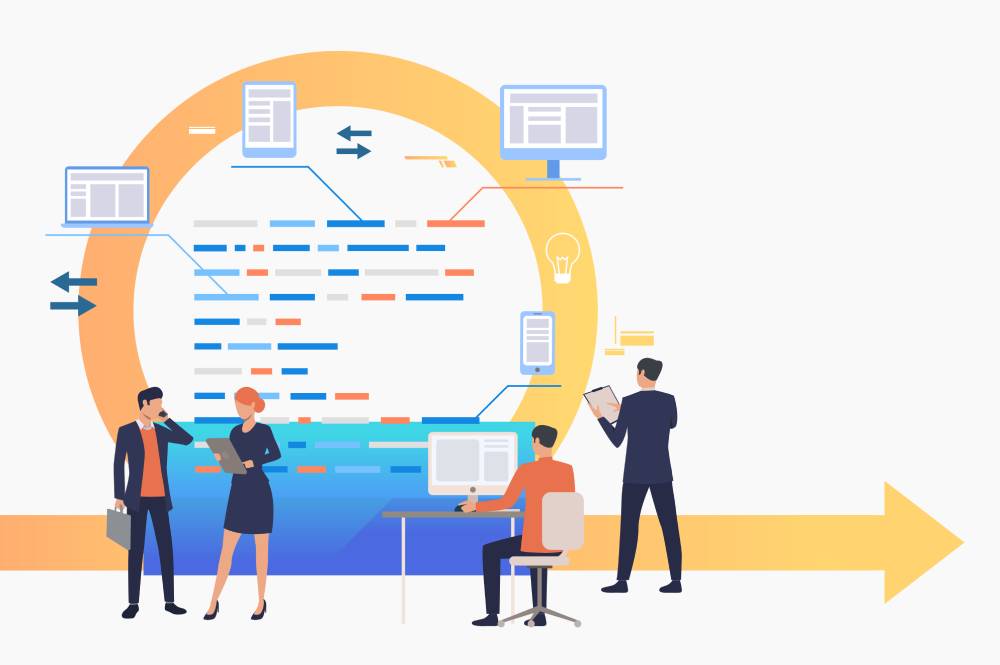 The Rise of Content Driven Marketing
The new norm for marketing is content-driven; your blogs, landing pages, company presence on online discussion boards, etc. For this reason, many companies are looking to use buyer intent data and buyer intent data tools to help drive their content marketing strategy.
Using the buyer intent data tool from Visual Visitor is helpful for more than just alerting you when a researcher is signaling to make a purchase. With a better understanding of intent data, what it is, and how to use it, your marketing team can focus all your sales and marketing campaigns where it matters most.
What is Buyer Intent Data?
Buyer Intent Data collects third-party research data about a B2B Company or B2C Individual User and their online activity. This data gathered from third-party research can be used to determine whether or not a lead is in their buying cycle. On average, 38% of sales go to the company that responds first. That could be you with Visual Visitor's buyer intent data. Our tool can alert you when prospects are researching, whether that research leads to you or your competition.
What is intent data? How is it collected?
How Buyer Intent Data Fits In
Companies use data analytics continuously to measure the success of their online marketing strategies. For example, they use Visual Visitor's Website Visitor Tracking Software to measure keyword searches, demographic information, engagement levels, etc. This lets them know how and where the lead travels through their website. But, in today's market, you need more. You need to understand what your lead is searching for on third-party data sites and ensure that your marketing efforts are on their path.
You need access to the Buyer Intent Data tool, Who's Shopping, from Visual Visitor.
With access to this level of data, your content marketing team will get a much clearer idea of how your target market is moving through their marketing process, what they are researching, and how you can get in front of the process to convert them.
Customer Touchpoints
With today's self-educated buyers, they no longer feel the need to approach your sales team to learn more about their options. Instead, they go online and learn what they think they need to know about their problem and what it will take to fix it. But all is not lost because when they go online, they leave digital footprints for a buyer intent-driven content marketing strategy to follow.
What are these digital footprints? They are the third-party intent data collected from online research. Current content marketing strategies that use this intent data can gain a competitive advantage over their competitors. They can strategically place posts, discussions, etc., to lead those researchers right to their company. And as they are researching, the buyer intent data collected will alert the sales team that it is time to reach out.
Buyer Intent Data > Content Marketing > Buyer Intent Data > Sales
Would You Like a Constant Stream of Interested Prospects?
User Buyer Intent Data to drive your content marketing strategy with Visual Visitor.
Using Buyer Intent to Drive Content Marketing
Now that you understand the impact online research has on the buyer's journey, it is time to outline how to use buyer intent data to drive your content marketing. By implementing a buyer intent data tool to collect the information from those digital footprints, you can use that data to improve your content marketing, keyword optimization, and lead generation to engage those leads at just the right time.
Understanding the Intent Data
To understand the intent data you are collecting, you have to understand the differences between the different stages of the buyer's journey. For example, buyers researching to educate will search on other terms than those researching to buy.
At the start of the journey, the Research / Information Gathering Buyer is researching to educate on a topic or solution. You should create this content accordingly. At this stage, the focus on buying is low. Instead, your team should focus on informative, engaging content to build a relationship with the researcher.
The Comparison Buyer is a little further through their buyer's journey. As a result, their keyword searches might sound more like "marketing agencies" or contain words like reviews or recommendations to pinpoint specific solutions to their problems.
The Intent to Purchase Buyer is further down the funnel and shows a clear purchase intent. These researchers are more focused on their keyword usage.
Understanding these subtle yet significant differences will allow your content marketing strategy to focus on researchers as they work through the buyer's journey.
Buyer Intent Keyword Optimization
Knowing that your prospects are likely to use different keyword searches in their product research as they move through the journey is a powerful tool. This knowledge of your B2B buyer will ensure that the buyer intent data you gather is productive. Simply throwing out a net for all kinds of keywords will not show your content marketing strategy team where the active leads are researching. You must focus on the terms that fit each stage of the funnel.
How do you do that? First, define the keywords that fit within each Buyer Persona mentioned above (and yes, there will be a slight overlap). Then prioritize those keywords within your buyer intent data tool. This step of understanding the keyword usage is essential when determining what pieces of content your marketing team creates for the buyers at each stage of the cycle.
Content Creation
After the team has outlined the keywords researched and clearly defines the types of words used at the different journey stages, content creation should be much more straightforward.
At the start of the journey, the Research / Information Gathering Buyer is researching to educate on a topic or solution. Your team should create this content accordingly. At this stage, the focus on buying is low. Instead, your team should focus on informative, engaging content to build a relationship with the researcher.
As the Research / Information Gathering Buyer moves to become the Comparison Buyer, your content should focus on a researcher looking to explore different solutions. They have defined their problem and no longer want to learn. Your team will need to focus their content on showing how your product or service is different and better than the competition. You should step up your content to include specific details on your product's highlights, how it compares to your competition, reviews from satisfied customers, free trial links, and any other positive thing that sets you apart.
Now that the Comparison Buyer knows your product and the comparisons, they are in the final stage to make a purchase. They know what they want and do not need any additional convincing. Your content should have links to purchase, signup, or your team's method to finalize a sale. Product pages or landing pages designed specifically for this stage are best.
Know who is shopping and be first to engage with
Visual Visitor.
User buyer intent data to know who is out there shopping.
Conclusion
Once your team understands that with buyer intent data driving your content marketing strategy, you don't need to focus on gathering every possible lead that searches on any word relating to your product, you will see significant changes. In addition, by using intent data to target specific researchers at specific stages of their journey, you will see conversion rates increase.
Has your team considered using a buyer intent data tool like Visual Visitor's to enrich their content marketing strategy? A good content marketing strategy focuses on attracting, engaging, and retaining an audience by writing and posting articles, videos, white papers, etc., that companies use for their research. Let's face it, to stay relevant within your industry's market, you will have to implement a data-driven content marketing strategy such as buyer intent data, and Visual Visitor's product is just the tool that you need.