The statistics are in and online shopping is more popular than ever. The pandemic has made customers weary of in-person shopping and businesses with online stores are poised to benefit.
Now that customers have got in the habit of purchasing and researching products online, reviews are more important than ever before. Why? While in-person shoppers are influenced by aesthetic factors like the appearance of a storefront, online shoppers are more rational. They turn to customer reviews to influence their purchasing decisions.
Unconvinced?
Over 85% of people will read reviews before deciding to purchase anything.
Buyers read an average of 10 reviews online before they feel they can trust a business.
88% of buyers trust online reviews as much as personal recommendations.
Average of a 9% increase in revenue for every additional star on Yelp.
Going from a 3- star to a 5- star rating delivers businesses 25% more clicks from Google.
How Do You Acquire More Reviews?
The first step to increasing your review count is to ask for them. Believe it or not, people like writing reviews. They enjoy sharing their opinions online and steering their fellow shoppers in the right direction. Asking for reviews, as simple as it might sound, is the best way to get people talking about you online.
Make it a habit to send review requests. You can automatically send a request after every online purchase or you can try a monthly approach instead. Avoid the practice of review gating-that is, soliciting reviews on the basis of their content. Send your requests widely, not just to customers you know will share positive feedback.
Where Should You Collect Reviews?
The two biggest review sites are Google and Facebook. They provide your business with the greatest visibility. For this reason, your efforts should focus primarily on these two sites. Fortunately, both Facebook and Google encourage businesses to request reviews. So don't forget to include links to these sites when you send your customers review requests.
How Should You Respond?
Contrary to what you may believe, every review deserves a response. Yes, even the negative ones. Sending a polite reply to every review makes your business appear professional and on top of things.
Ignoring a negative review signals to your current and potential customers alike that you don't read or, even worse, don't care about your customers' opinions. You don't want to give off this impression. Instead, respond promptly to every review, acknowledge specific criticisms and offer to move the conversation offline.
Remember, negative feedback can help you improve your business. So if you receive a dreaded negative review, consider the following questions:
Is the critique fair?
Is there a problem you can solve?
Can you do better in the future?
Before writing off a negative review, consider how it can help you improve your business.
Struggling to Keep Track of Your Reviews?
Visual Visitor can help you request, monitor and share your reviews. The best part is you can accomplish all three goals without leaving your dashboard. Keep track of individual reviews and review trends. Break down your overall rating to find out what customers really think about your business. And take advantage of our automated drip campaigns to request reviews.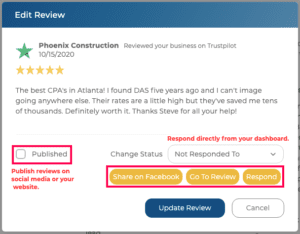 With the click of a button, you can respond to a review or publish it on your website. Our review dashboard is automatically updated to make sure you don't miss any reviews. Plus, we can even send you an alert every time a new one comes in.
Interested in stepping up your marketing game? Sign up for our 14-day free trial by clicking here. And follow us on Facebook and Instagram for more marketing tips and tricks.