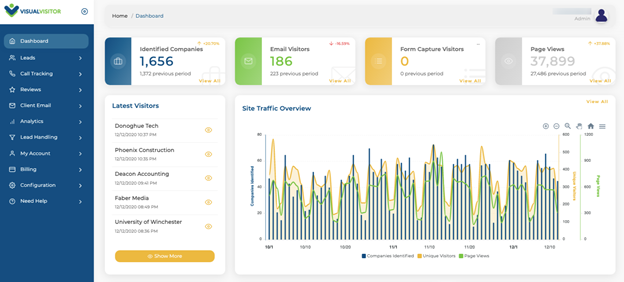 As every salesperson knows, some leads will inevitably fall through the cracks. Whether it's down to timing or a bad first impression, some prospects are liable to lose interest in your business. But just because your first attempt was unsuccessful doesn't mean you can't convert them in the future.
How do you know when to try again?
Website tracking, also known as website visitor identification, lets you know who's browsing your site and which pages are capturing their attention. You can even find out how long they're spending on each page. But how does this help you determine when to strike?
Contrary to what you may believe, some of your cold leads are still browsing your site. But without a nudge from you, that's likely all they're willing to do. In fact, 98% of your website visitors will leave your site without taking further action. Hardly anyone will take the time to fill out a form or contact you. That's why sales teams should be proactive about pursuing their leads. Especially the ones that have gone suddenly cold.
When a cold lead returns to your site, this indicates they're still interested in your business. Perhaps their circumstances have changed and they're ready to take a chance on your business. But you won't know unless you reach out.
What's the best course of action? When you spot a cold lead browsing your site, go ahead and contact them. They're already thinking about your business. Give them an opportunity to ask questions and learn more about your business.
What does website tracking look like?
Visual Visitor is proud to be an authority on anonymous visitor identification. Every time someone visits your site, our tracking software can detect:
Who they are. Find out their contact info without having to dig for it. We even provide their coworkers' contact info.
Which business they work for. Discover their business name, location, and annual revenue estimate.
How long they spent on your site. Measure their level of interest in your business by monitoring their browsing history.
Which pages they looked out. Find out which pages on your site are attracting clicks and leading to sales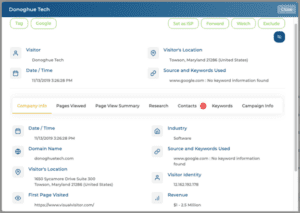 Interested? Click here to sign up for a free demo, no credit card required! Find out which cold leads are still interested in your business.