Jack is in charge of email campaigns at Faber Marketing. He sends monthly newsletters to boost customer retention and uses promotional emails to increase customer acquisition. Typically, his efforts are rewarded. His clients have a steady customer retention rate and they're slowly but surely increasing their sales. But, for one of his clients, Steven Hall, this micro growth isn't enough. Steven wants to see hard proof that Jack's email campaigns are making headway. How does he know that email campaigns are responsible for his business's growth? And how does Jack know people are actually reading his promotional emails?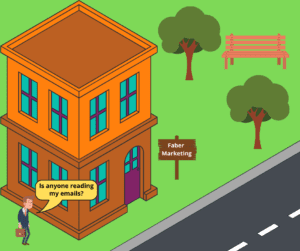 Jack needs email tracking software. This would allow him to determine exactly how many people are reading his emails. In other words, he would be able to measure the success of his efforts. If most recipients are ignoring his emails, email is perhaps not the best medium to connect with his clients' customers. Alternatively, if people are opening his email but not completing a purchase, his marketing language could use some work. Knowing what's working-and what isn't-will help him improve his marketing strategy overall.
How can email tracking help Jack appease his clients? His agency can white label it, or resell it, to their clients. White labelling is designed for clients like Steven Hall. It provides both parties, the agency and the client, with access to this valuable software. The next time Steven calls Jack, they can refer to email tracking data to determine whether email campaigns are receiving clicks and leading to sales.
Do you manage email campaigns?
Visual Visitor offers email tracking software to both do-it-yourself marketers and marketing agencies. Take advantage of our software yourself or resell it to your clients. In particular, we can answer the following questions:
Who opened your email?
How long did it take before your email was opened?
When your email was opened?
How many times your email was opened?
Where is the recipient located?
We even allow you to tag your email recipients. Every time a tagged visitor returns to your site, you'll receive a notification. And, with the help of our website tracking software, you can even take a look at their browsing history. Take advantage of our website tracking software to find out which pages on your site are attracting attention.
Our reselling partners can rest assured that our software will reflect your brand. We'll change the logo and the URL to match your business. Your customers will associate our software with your business alone.
Are you interested in email tracking? Read more about it here. And sign up for our 14-day free trial to give it a try.