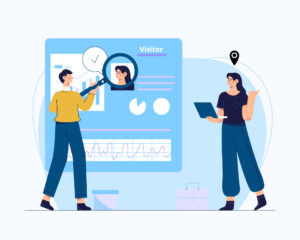 Mar 16, 2022 |

5

minute read
Reading Time:
5
minutes
4 Ways Website Visitor Tracking Software Works
When you are looking over your numbers for the month and working through different ways to increase your sales, do you consider your website traffic in the equation? If you answered no, then you're not alone. Even though website visitor tracking software has become increasingly important in online marketing campaigns, there are still many out there who do not realize the value it adds.
What is Website Visitor Tracking?
Website visitor tracking is a systematic process of logging the different ways that visitors engage with your website and then presenting that behavior to you in a meaningful way. This process allows you, the website owner/sales manager/company owner, to have a visualization of the paths that your visitors are taking as they go through your website. This knowledge allows you to identify bottlenecks, redirect to more useful and more widely received information, and ultimately optimize their buyer's journey.
Why use Website Visitor Tracking Software?
Having a website visitor tracking tool like Visual Visitor in your sales resource kit will be a supplement to amplify the effectiveness of your current sales plan. These actionable insights that you gather from your own website will show you what needs to be fixed, what needs to be better highlighted, and where you seeing those prospects drop off. Remember, the data you will be able to view from your own website is the closest you will ever really get to interviewing those website visitors.
Website Visitor Tracking with Visual Visitor
There is a lot of growth in the website visitor tracking software market which means there are many tools available at varying price points. Visual Visitor's Website Visitor Tracking software is one of many tools that you will find indispensable on our Sales Intelligence Platform. With our visitor tracking software, we help you get more leads from the traffic you already have. Did you know that 98% of the visitors to your website simply leave without ever contacting you? We help you identify who these visitors are in real-time.
Let me go over a few of the different reasons that our tool is so widely used.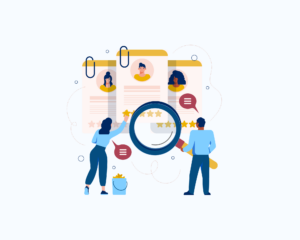 1. Who is visiting your website?
Knowing which companies are visiting your website is an invaluable tool for any company. It will help with sales; it will help with customer retention. What we do is turn those anonymous website visitors into qualified sales leads by determining which companies are visiting your website. Once you know who is visiting, you know where to focus your sales efforts. Tie this list in with our Who to Contact database containing over 600 million contacts, and you have an extremely powerful tool to put your team ahead of the competition.
Here are just a few of the data points we provide to you and/or your sales team:
Company Name, Address, Location
Pageview details and time spent detailing the buyer's interest
Possible Contacts – Names, Titles, Phone Numbers, Email Address
Keyword & Referral Source
Campaign Information.
All of this information is also integrated within our other features to give you a well-rounded understanding of which prospects are ready to buy!
*Our Who to Contact and Who's Shopping are not available to customers on the Legacy Platform without an upgrade. Please contact your Sales Representative for more information here.

Know more than just who is visiting your website with Visual Visitor.
2. Where are they going?
Just knowing who is visiting your website is not the only valuable data that Visual Visitor's website visitor tracking software will provide to your team, we will also tell you, in real-time, where they are going within your website and how long they are staying on each page – thus enabling your team to enter at the right time with the information that this prospect is currently interested in. This information not only provides a map of the visitor's journey, it also shows when they are visiting. Does your website tend to see more visitors during the 12-3 pm timeframe? That tells your sales and marketing teams that posting new content and social media updates during that window would more than likely produce more interest.
3. When to reach out?
How do you know when to make your initial contact with the prospect? Website visitor tracking with Visual Visitor's Sales Intelligence Platform can help with this question as well. As you track your prospects through their journey, you will see a pattern emerge that shows you when you are more likely to have a positive prospect engagement. Do some A/B testing as you see prospects visit. Follow up with an informational email as they view your different offerings, shoot the prospect a personal email to open a dialog, reach out on LinkedIn with an informative blog post or whitepaper about your product. Just knowing that they are visiting and having the ability to reach out will open doors that will take your sales to another level.
4. Is your current outreach working?
Using a website visitor tracking product to strengthen your current and future marketing campaigns will allow your team to track through the data collected how their current engagements affect not only the leads coming in but the conversion rates of those leads. How do we do this? As visitors connect with your marketing efforts, you will have the ability to tag them so that each subsequent visit is tracked per lead. You will know that after you sent them an email with links to different offerings, they clicked and engaged. You will also be able to see how those tagged visitors engage with your ads, blog posts, emails, etc.
Make your website work for you with Visual Visitor.
Identify hidden leads, redirect visitors to more useful and widely received information, and ultimately optimize your visitor's buyer's journey with Visual Visitor.
Grab Your Free Trial Today
Conclusion
Visual Visitor's website visitor tracking is a valuable asset that every company with an internet presence needs. The way that online sales works, without this visitor tracking software, you are losing an invaluable asset that has been proven time and time again to help you and your team. Visitor tracking software will not only monitor your website activity, but track online behavior within your site, provide useful contact information, and help increase your sales.