Feb 02, 2021 |

2

minute read
Reading Time:
2
minutes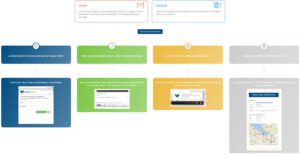 One of the best ways to connect with your current customer base is to send a regular newsletter. Not only is it cost-effective, it's also easy to set up. Plus, it can help you accomplish the following objectives:
Update your customers on company news.
Promote your products and services
Generate recurring traffic to your site.
Build customer loyalty.
Customer retention is critical if you want your business to succeed. And one of the best ways to keep your customers thinking about your business is to communicate with them regularly. Newsletters help you achieve just that. With a relatively short amount of text, you can reclaim your customer's attention and even encourage new sales.
How to Write a Strategic Newsletter
Develop a plan before you start writing. Instead of jumping right into the writing stage, consider the following questions:
Who is your target audience?
What is your primary goal?
What value are you providing?
How frequently should you send one?
Until you have firm answers for each of these questions, you're not ready to begin writing.
Identify the KPIs that matter to you. KPIs, also known as Key Performance Indicators, allow you to measure your successes and failures. Determine which of the following KPIs aligns with your goals:
Increasing your volume of sales.
Encouraging customer engagement.
Driving traffic to your site.
Getting the word out on your promotions.
Achieving a high CTR (click through rate).
A newsletter doesn't have to accomplish all of these to be a success. Figure out which KPIs match your goals and plan accordingly.
Decide how you're going to track performance. To make the most out of your newsletter, consider downloading email tracking software. This would allow you to identify which customers opened your email and which ones left it sitting in their inbox. In particular, email tracking can help you:
Discover which customers are still engaging with your business.
Identify which pages on your website are attracting their attention.
Monitor the activity of your current and future customers.
Analyze and track key performance indicators.
Email tracking helps you keep tabs on your marketing performance. Without it, you won't know what's working-and what isn't.
What to Put in Your Newsletter
The primary function of a newsletter is to keep people thinking about your business. To that end, there are many things you could include in your newsletter. Consider updating your customers about:
Upcoming changes to your business.
New product launches.
Current and future promotions.
Projects you're working on.
New content on your site.
As long as you're succinct and you keep your content relevant to your customers, you can't go wrong.
Email Marketing Made Simple
Interested in stepping up your email marketing game? Visual Visitor can help you organize and monitor your email campaigns and newsletters. With the help of our email tracking software, you can find out which emails are making headway, securing clicks and leading to sales.
Sign up for our 14-day free trial by clicking here. Start marketing in a smarter, not harder, way.