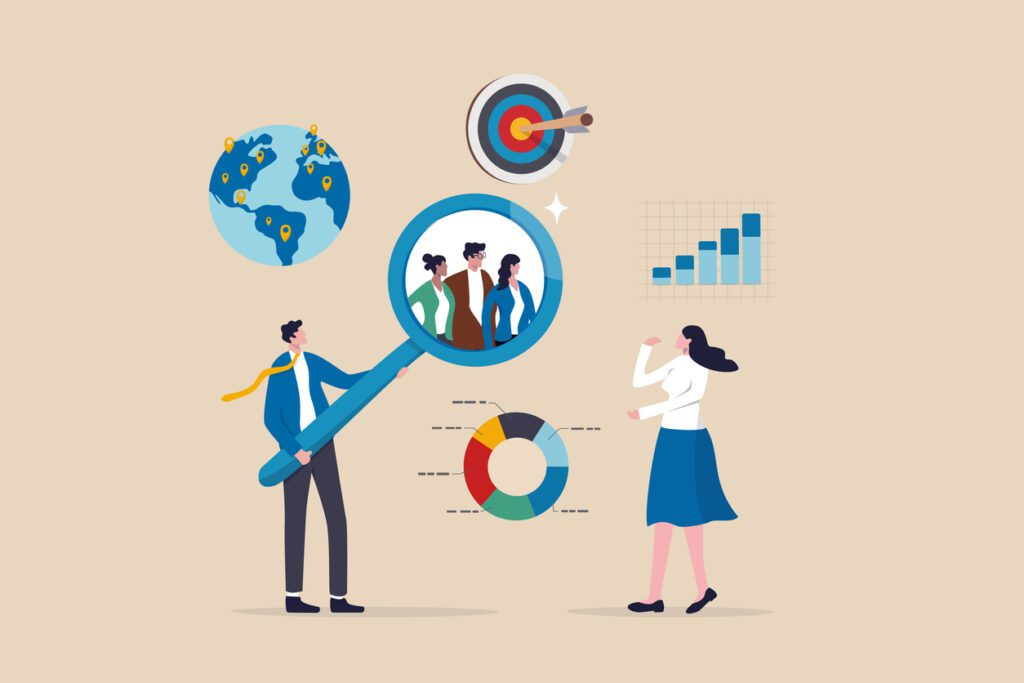 Sep 20, 2021 |
4
minute read
Reading Time:
4
minutes
Total Addressable Market, or TAM, is a phrase most salespeople have heard, but might not be on the top of their radar. Let's go over why it's important to both sales and marketing and how understanding your TAM can help you increase your numbers and can change the way you grow your pipeline.
What is Total Addressable Market or TAM?
When you are going over the growth potential for your company, many will focus solely on the pipeline of incoming leads, little do they realize, the Total Addressable Market, or TAM, can also be a valuable tool. TAM refers to the total market demand for a product or service across all alternatives. For example, if a company is the only provider of a product or service, there would be no alternatives. This would make the entire demand theirs. This is because the TAM is the most amount of revenue a business can possibly generate by selling its product or service.
TAM helps you develop attainable goals and eliminate dead-end leads. It gives you a realistic picture of the current market and even helps you predict future trends.
Why is Total Addressable Market Important to B2B Businesses?
Understanding the revenue potential for your product or service is vital to growing your business. By using TAM, your sales and marketing teams will be able to more accurately formulate plans for growth, identify target groups that fit, and accurately track the progress made. By doing this, your team will know the potential market for revenue growth and whether or not it will support the expansion of your business.
Looking to learn more about your current and future customers?
Go beyond your typical prospecting methods and engage sooner with Visual Visitor
Advantages of Understanding your TAM
Understanding your Total Addressable Market does more than just identify your company's potential revenue opportunity. It also provides the necessary insight into your specific industry to pinpoint where you are and where you need to be. This type of data will allow your team to outline a plan or build a roadmap with a path to grow and stay relevant within your industry. This type of planning is valuable not only for growth but also for investors who will be looking for exactly these types of estimates of growth.
How can you calculate TAM?
You should begin by taking stock of the information you already have. Think about your current and potential customers. Consider what you already know about your market. To help you get started brainstorming, we've included some questions below.
What industries would find value in your products?
What size companies purchase your products?
Where are these businesses located?
What are the characteristics of your existing customers?
What growth is expected and where?
How is the market growing and changing?
Once you know the answers to these questions, you're ready to calculate your TAM.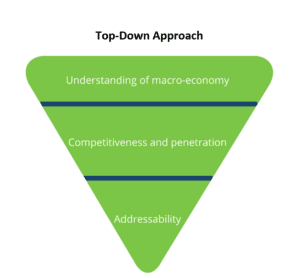 The Top-Down method uses industry research to predict the size of your addressable market. Secondary market research is frequently used to calculate the size of your industry as well as how many end users meet your market criteria. However, to get a more accurate perception of your market, you may want to consult third-party consultants.
The Top-Down approach can provide valuable insights into your addressable market. However, your findings will lack specificity and, as a result, may not provide any actionable insights.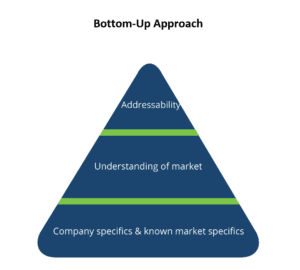 The Bottom-Up method is a more effective way to calculate your TAM. It enables you to build market boundaries and sales goals using the data you already have. It's more cost-effective than purchasing third-party research and it provides a more accurate prediction of market growth and revenue sums.
In the Bottom-Up method, TAM = (Annual Contract Value) x (Total # of Accounts)
If you're looking for more specific results, consider multiplying your Annual Contract Value (ACV) by the number of accounts in large enterprises (EE), mid-markets (MM), and small to medium-sized businesses (SMB).
TAM = Sum of (ACV x EE #) + (ACV x MM #) + (ACV x SMB #)
This equation factors in the size of your accounts and thus provides a more accurate calculation of market size.
Call When They Are Ready to Buy
Uncover that anonymous visitor and go beyond simply tracking clicks to become a prospecting superhero.

What can you do with a TAM estimate?
Calculating your TAM can help you prioritize business opportunities with a greater chance of success. More specifically, it can help you:
Segment leads and create targeted lists
Develop go-to-market strategies
Improve your conversion rate
Boost customer retention
Whether you're meeting with investors, launching a new product, or updating your sales goals, understanding your Total Addressable Market is crucial. The more you know about your market, the easier it will be to develop effective sales strategies.
Conclusion
By better understanding your TAM, your business will have the data it needs to go to the next level. This will benefit not only your numbers, but also your investors, your employees, or your chance to get investors! These metrics will help you create a roadmap for the future of your business!
Looking to learn more about your current and future customers? Visual Visitor can tell you:
Who's visiting your website
Who's opening your emails
Who's shopping online for your products
Plus, we offer a Who to Contact database equipped with over 600 million contacts. With Visual Visitor, your ideal contacts are just a search away.
Know more about your current and future customers!
Grow with Visual Visitor's Sales Intelligence Platform
Visual Visitor
14-day Free Trial, No Credit Card, No Obligation