Sep 16, 2021 |

4

minute read
Reading Time:
4
minutes
Businesses that adopt Account Based Marketing (ABM) utilize their marketing resources to target a specific set of accounts. This system requires sales and marketing teams to work together to identify the accounts that are most likely to become customers. This strategic approach works by aligning your sales and marketing goals.
ABM isn't a new concept. But recent developments, including the rise of the Sales Intelligence industry, make it easier than ever before. Intent data and firmographic data can help you identify which accounts to target while contact data can help you reach out to the right people. In other words, Account Based Marketing takes advantage of Sales Intelligence data to generate sales.
In essence, Account Based Marketing works by eliminating dead-end leads and targeting best-fit accounts. This strategic practice will likely earn you a greater return on your investment.

What are the Benefits to Account Based Marketing?
Account Based Marketing entails working smarter, not harder. To that end, ABM will:
Earn you a higher ROI
Save you valuable time
Increase your audience engagement
Accelerate your sales cycle
Score you a higher percentage of large deals
In addition, targeting fewer leads will allow you to spend more time with each one. You can use this time to find out more about them and personalize your sales pitch.
Step by Step Guide to Account Based Marketing
Define your high-value accounts. If you have already created an Ideal Customer Profile, or ICP, you can use this to determine which accounts to target. If not, identify the customers which provide you the greatest value. Consider which factors unite these businesses. Is there a particular industry, business size, or location that they share? Once you've identified the connecting tissue, use this information to define your high-value accounts.
Identify key contacts. Determine which employees are key decision makers. Make sure your sales team, and your marketing campaigns, are targeting people with purchasing power. You don't want to waste your time contacting employees who don't have the power to make a purchase.
Develop personalized messaging. Use what you know about your accounts to tailor your messaging. If possible, identify your prospects' pain points and address them in your messaging.
Select your preferred channels. When it comes to B2B sales, not every channel is created equal. Some platforms, like LinkedIn, will be more useful to you than others. Decide which channels will work best for your marketing campaigns.
Organized targeted campaigns. Marketing campaigns should be aligned with your sales timeline to achieve optimal results.
Measure your successes and failures. Keep track of your ABM marketing campaigns. The more data you collect now, the easier it will be to plan campaigns in the future.
Why should you perform Account Based Marketing?
The modern buying journey is complicated.
Buyers are harder to reach than ever. Nobody likes advertising. That's why most emailing lists come with an unsubscribe button. And gated content will inevitably turn away leads looking to remain anonymous.
Buyers research online before reaching out to a sale rep. Buyers spend a lot of time researching online. So much so that by the time they reach out to a vendor, they've all but decided to purchase their product. Sales reps have less influence over the buyer journey than ever before.
Buyers meet with each other more often than with suppliers. The average number of buyers needed to make a purchasing decision is about 5.4. Instead of targeting an individual lead, you should be targeting the entire buying committee.
Given how difficult it is to make a sale in modern B2B sales, you shouldn't waste your time pursuing bad-fit companies. ABM helps you concentrate your efforts on the accounts with the greatest potential.
Conclusion
Account Based Marketing is a strategic approach to marketing and sales which can earn big. However, to effectively utilize the ABM method, you need high-quality data. Fortunately, Visual Visitor has you covered.
Visual Visitor is a cost-effective and efficient Sales Intelligence Platform. We offer a variety of tools which you can use to launch your Account Based Marketing initiative.
Our Who's Shopping feature lets you know which businesses are searching for your products online. These leads are already in the market for your products. As a result, they will be easier to convert.
Our Who to Contact database offers more than 540 million contacts. The best part is you can apply different filters to get targeted results. If, for example, you're looking for Sales Directors in the Automotive Industry, all you have to do is set the appropriate filters. You can use this feature to begin prospecting or find out more about the leads you already have.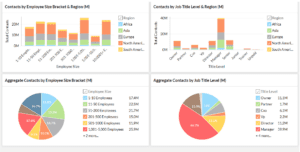 Our Who's Interested feature tells you which companies are visiting your website. You can even find out which pages they're looking at. Plus, we send out real-time notifications when promising leads return to your site.
Our Who's Opening feature lets you know which leads are opening your emails. Unlike Read Receipts, our Who's Opening tool detects whether an email has been opened without alerting the recipient. Find out which leads are engaging with your marketing campaigns and sales proposals.
What do all our features have in common? They enable you to prospect and pursue leads with ease. In other words, they will be a valuable addition to your ABM initiative. Our Who's Shopping and Who to Contact tools help you hone in on high-quality leads. Our Who's Interested and Who's Opening tools tell you which leads are responding to your marketing and sales efforts.
Interested? Sign up for a free demo today.