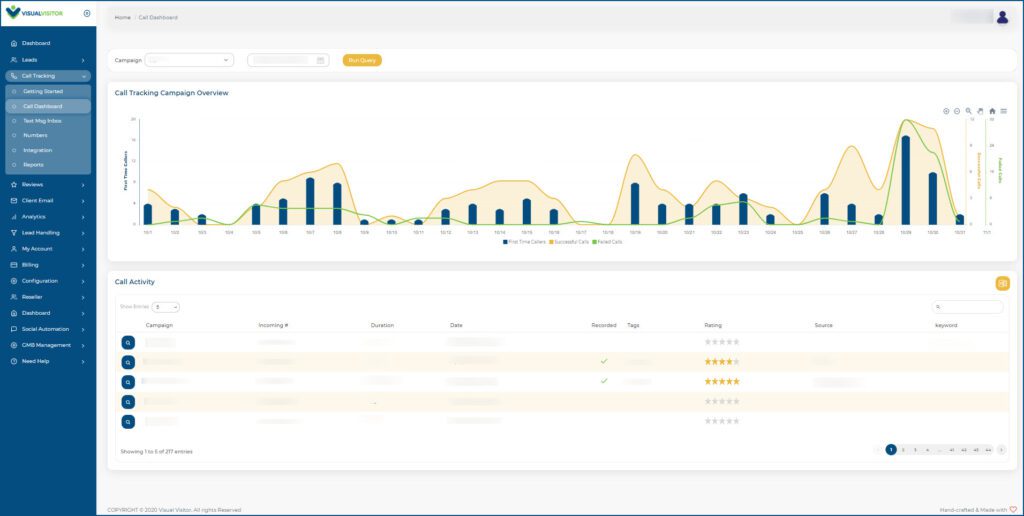 Call Tracking is the process of tracing calls back to the initiator. In particular, it identifies who's calling and which referral source or keyword inspired them to pick up the phone. The primary goal of call tracking software is to help you identify and invest in the advertising channels that are earning you business. 
How Does Call Tracking Work?
When you assign a unique phone number to each advertising platform, you'll be able to track which ads are attracting clicks and inspiring phone calls. In other words, you can monitor the progress of your marketing campaigns and make necessary adjustments.
When you sign up for Visual Visitor, you'll have the option of using Keyword Level Call Tracking. We can not only identify which ads are getting clicks-we can tell you which keywords are generating phone calls. Pay-Per-Click campaigns are expensive and we can ensure your marketing dollars aren't going to waste.
What Does Call Tracking Tell You?
Keyword Level Call Tracking provides you with valuable insights about your advertising campaigns. Specifically, our software can answer the following questions:
Which advertising channels are driving calls?
Which keywords are worth the money?
Which marketing strategies are working?
Knowing the answers to these questions can help you invest strategically. Eliminating ineffective ads and keywords can literally save you thousands of dollars each month.
At Visual Visitor, we understand the value of good marketing. That's why we developed our innovative Keyword Tracking software. We provide the data you need to strengthen your marketing. Sign up for our 14-day free trial today to ensure your marketing dollars aren't going to waste. Click here to sign up.
Interested in improving your marketing ROI? Click here to sign up for our 14-day free trial. Let our Call Tracking software do the heavy-lifting for you.