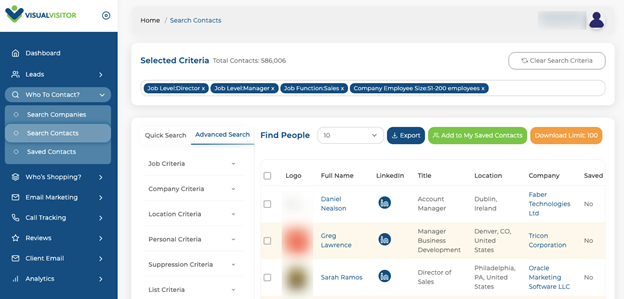 Aug 12, 2021 |
< 1
Reading Time:
< 1
minute
According to a 2018 study, most B2B customers browse between 2 and 7 sites before making a purchase. What does this mean for B2B sellers? Your ideal customers are lying in wait. And with the aid of website tracking software, you can identify these elusive leads and get started converting them.
But it's no secret that some leads are better than others. And plenty of your website visitors are just doing a cursory search. How do you know which leads are worth pursuing?
How to Identify Hot Leads
Firstly, identify the businesses that are spending a lot of time on your site and making repeat visits.
Secondly, keep track of visitors to your pricing page-these leads are serious about buying your products.
Luckily, Visual Visitor can help you perform both of these tasks. Our website tracking software identifies who's visiting your site, which pages they're looking at and how long they're spending there. We even provide firmographic data for the visitor's business. Specifically, we can tell you:
Their industry
Their annual revenue
Their number of employees
Their location
Plus, we provide contact details for key decision makers at these businesses. Finding good leads couldn't get any easier.
Looking for a new way to prospect?
In addition to our website tracking software, we also offer a B2B contact database equipped with over 500 million contacts. The best part is you can apply different filters to target your ideal leads. You can specify which industries, locations, and employee counts you're looking for.
You can also set the parameters for your ideal contact. Perhaps you're interested in managers or directors of sales. You can set filters for these categories as well.
Our contact database exemplifies working smarter, not harder. Instead of conducting your own research, let us do the work for you.