Jan 27, 2022 |

3

minute read
Reading Time:
3
minutes
Intelligence data is a must-have for B2B sellers in 2022. But how can you be sure the data is accurate? Remote working has made it more difficult than ever to get a hold of leads. And without reliable data, how do you know your messages are reaching their intended recipients?
Introducing our new feature, the Contact Confidence Score. This feature lets you know how confident we are that an email address is up-to-date. Personnel changes make it impossible to be 100% confident in the accuracy of contact data. But with the help of artificial intelligence, we can verify whether an email address is active and currently associated with the intended recipient.
What can Contact Confidence Scores do for you?
The Contact Confidence Score is designed to help your marketing and sales teams make educated decisions about who to contact and how. If you're deciding which employee to contact at a large corporation, eliminating employees with a low score is a good first step. These contacts are less likely to receive your emails – thus, you should prioritize other leads.
If you're launching a mass email campaign, feel free to include these unverified email addresses in your list of recipients. But if you're crafting a tailored sales pitch, you should focus on contacts with a stronger score. These leads are more likely to receive your messages. In other words, they'll earn you a higher ROI.
To make the most out of our Contact Confidence Score, make sure you establish a baseline score whenever you conduct a search in our database. This step excludes low-quality data from your search results. This will help you home in on the leads that are easier to contact.
How do you establish a baseline Contact Confidence Score?
When you click on the Advanced Search button in our Who to Contact Database, a list of filters will pop up. The Listed Criteria filter allows you to establish a baseline Contact Confidence Score.
When you click on the Listed Criteria, you will see an option to establish a Contact Confidence Score filter. Check this box and drag the circle to reflect your preferred range. If, for example, you're interested in viewing results with a score of 80 or above, drag the circle until it says 80. The software will automatically exclude results with a score less than 80.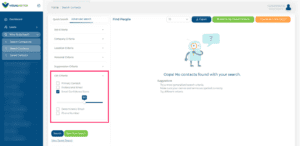 How does it work?
There are two versions of a Contact Confidence Score in our platform. When you click on a lead in our database, the corresponding score is the Historical Contact Confidence Score. This score has been verified recently but not concurrently with your search. In other words, to determine the most accurate score, you need to find the Real-Time Contact Confidence Score. To do this, simply check the box for the contact you're interested in and then click the Export button. Within an hour, you should be able to view the Real-Time Contact Confidence Score.
Your credits back…guaranteed!
The best part of our Contact Confidence Score feature is our credit-back guarantee. If you click on a lead that has a low score (below 40), we will automatically refund your contact credit. You can use or disregard the unverified data without losing contact credit.
The Contact Confidence feature is designed to help you get the most out of our contact database. Sales and marketing teams alike will benefit from this helpful tool. When you use this software in tandem with our Buyer Intent Data and Website Visitor ID features, you can determine who, how, and when to contact a lead. At Visual Visitor, we deliver the data you need to sell strategically.
Curious about our Sales Intelligence data? Click here to read more about it.