Jun 26, 2017 |

3

minute read
Reading Time:
3
minutes
Are website leads a driving force for growing sales for your business? Or are website leads left unidentified?
Most B2B companies struggle with website lead generation and utilization. They are unsure where to begin, how to identify, what product to use. Or, even worse, they get roped into a 12-month contract for hundreds of dollars a month that proves to be an unjustifiable addition to their sales arsenal. With Visual Visitor, identifying website leads is not only simple, it's affordable.
Surveys done on B2B marketers have found that the number one challenge B2B companies face in this online world, is being able to generate high quality leads. Quality leads that convert and don't fizzle out before the Buyer's Journey has even really begun.
How Visual Visitor can help with your Website Leads and Lead Generation

Understanding the lead generation process is a must first step. This process typically will start when a website visitor visits your site and becomes a website lead. In days past, a visitor would have to actually click on a CTA (call to action), go to a landing page, and then fill out a form before they could transition into the website lead category. With Visual Visitor, that is no longer necessary.
As soon as that B2B visitor lands on your page, Visual Visitor is tracking their every move. We know what pages they visit, how long they spend on each page, pertinent device and analytic information about them, their location, and most importantly we know who they are. We are able to deliver company name and information for those previously anonymous B2B visitors that, in the past, had to fill out a form to be recognized.
With information like this, your sales team is able to jump into the Buyer's Journey early in the cycle, setting the stage for your business instead of playing catch-up. We all know that by the time that potential customer reaches out to you, they have already done their research, picked their favorites, and reduced your chances of closing the deal.
We've helped with your Website Leads, now what?
Visual Visitor is so much more than just an anonymous website leads generation tool. We have a feature set that stands strong against any rival with tools like: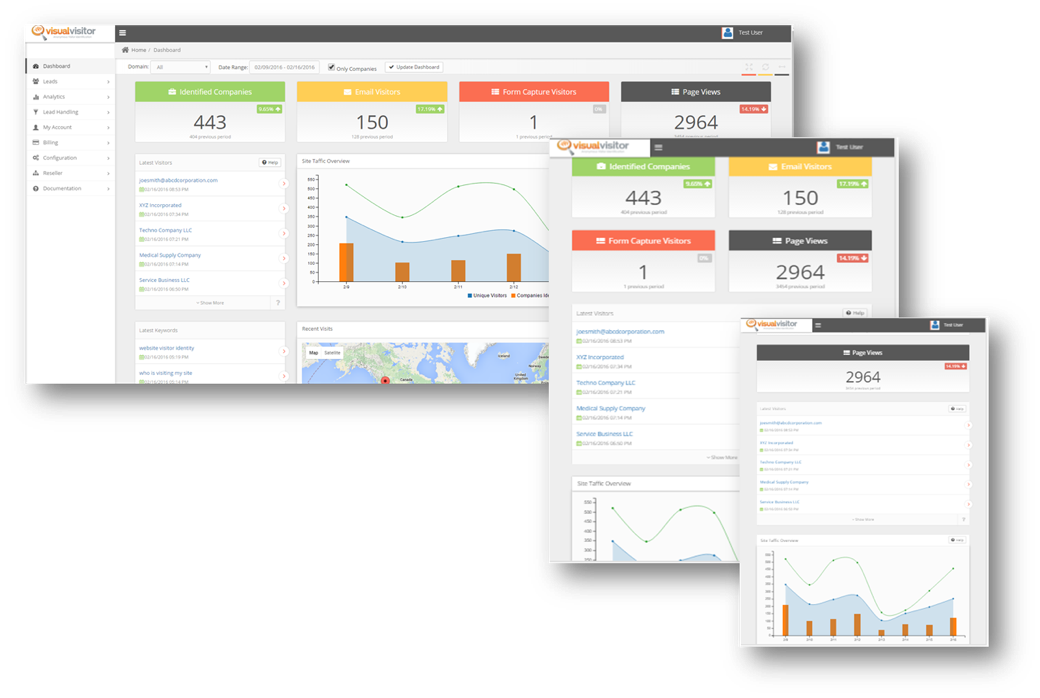 Identify Anyone – our email campaign integration tool that allows you to tag visitors directly from your email campaigns to record future visits! This feature is easy to set up and easy to use with our Email Campaign Link Builder.
Form Capture – some websites still have forms. We know that and we understand. Our Form Capture feature automatically adds your form data to your Visual Visitor dashboard and reduces the work load of your team.
Full Analytics – The Visual Visitor website visitor analyticspackage combines all the data received from your website in one place. No more importing data from various providers to get the full picture. Our analytics data goes beyond stats like performance, main sources, and landing pages. We give you more detailed information like First Time vs. Return visitors, Unique visitors by device, and more!
CRM Integration – sending your leads to your CRM with the click of a button, how simple is that? Is your CRM not on our list? No worries, we also integrate with over 700 applications with Zapier.
Individual Email Tagging – interested to know who, when, where your email was opened but frustrated when read receipt is turned off? Want to know when that email you sent out was forwarded on to another recipient? Visual Visitor can help with that, too!
How to get on the Visual Visitor website leads team?
Signing up for Visual Visitor is a simple process. Click here and get started on your 14-day Free Trial – no credit cards, no obligations. At the end of the 14-day trial, you will be asked to enter in your credit card information to become a Visual Visitor customer, not before.
We are a highly competitive, monthly service that requires no contracts! What are you waiting for, start utilizing those website leads and join Visual Visitor today!
No CCs, No obligations!