Small business owners and marketing agencies alike can benefit from call tracking. This innovative software allows you to track inbound calls and match them with their corresponding referral source. As a result, you can identify which ads are inspiring phone calls and leading to sales.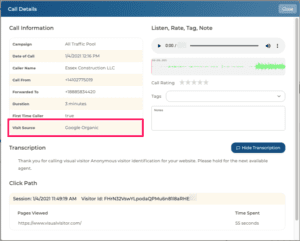 How does call tracking work?
The term call tracking describes the process of assigning a unique phone number to each ad. Every time you receive an inbound call you can identify the corresponding referral source. This allows you to determine which ads are successfully reaching your customers. Investing in these ads-and eliminating the rest-can literally save you thousands each month.
Marketing agencies have the ability to white label, or resell, call tracking software to their clients. Clients who are interested in running their own ads, or monitoring your efforts on their behalf, will benefit from call tracking. Plus, both parties will be on the same page about how their ad campaigns are performing.
Which Software Is Right For You?
Visual Visitor offers call tracking to both do-it-yourself marketers and marketing agencies. In fact, we offer keyword level call tracking. Our software can detect the specific keywords a customer typed into a search engine before making a call. Knowing which marketing channels and keywords are successful can help you invest strategically.
Our reseller partners have the option of white labelling call tracking as well as our other features. What do we have to offer?
Are you interested in white labelling marketing software? Sign up for our free trial by clicking here. Find out which features can help-and your clients-achieve your marketing goals.