Nathan was recently hired by Oracle Media Group, a small marketing agency. He works diligently to build up his clients' social media profiles with the goal of increasing their visibility online. But he's yet to tackle online reviews.
Unfortunately, most of his clients haven't claimed their Google My Business Listing. And they haven't been on top of asking customers to leave reviews. Without reviews, his clients are all but invisible online.
How does Nathan increase their review count?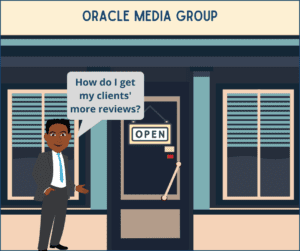 Google and Facebook are the two most influential review sites. But that doesn't mean Nathan's efforts should stop there. There are a variety of industry-specific review sites which deserve his attention as well. Monitoring existing reviews-not to mention requesting new ones-is starting to feel like a full-time job.
Nathan has two options. He can manage his clients' review listings individually or he can download review tracking software.
Visual Visitor: Your Word-of-Mouth Marketing Machine!
To help you manage your existing reviews and generate some new ones, we've created a review tracking module. When you log-in to your Visual Visitor dashboard, you can request, monitor and share reviews. Access all of your reviews in one place and utilize our automated drip campaigns to request new reviews.
Nathan can use review tracking to manage his clients' reviews. Or he can ask his agency to white label, resell, it to his clients. This would allow both parties, the agency and the client, to utilize this software to track reviews. For hands-on clients who want to make their own marketing strides, they can use it to request their own reviews. And for your more hands-off clients, they can use it to keep track of their existing reviews and monitor your efforts on their behalf.
Once Nathan downloads Visual Visitor, he won't have to worry about increasing his client's visibility. He'll be able to create automated drip campaigns for requesting reviews. And he won't have to check review sites individually.
Are you interested in increasing your review count? Download Visual Visitor to automatically request new reviews and access all of your reviews in one place. Click here to sign up for our 14-day free trial. Find out how we can help you manage your online reputation.