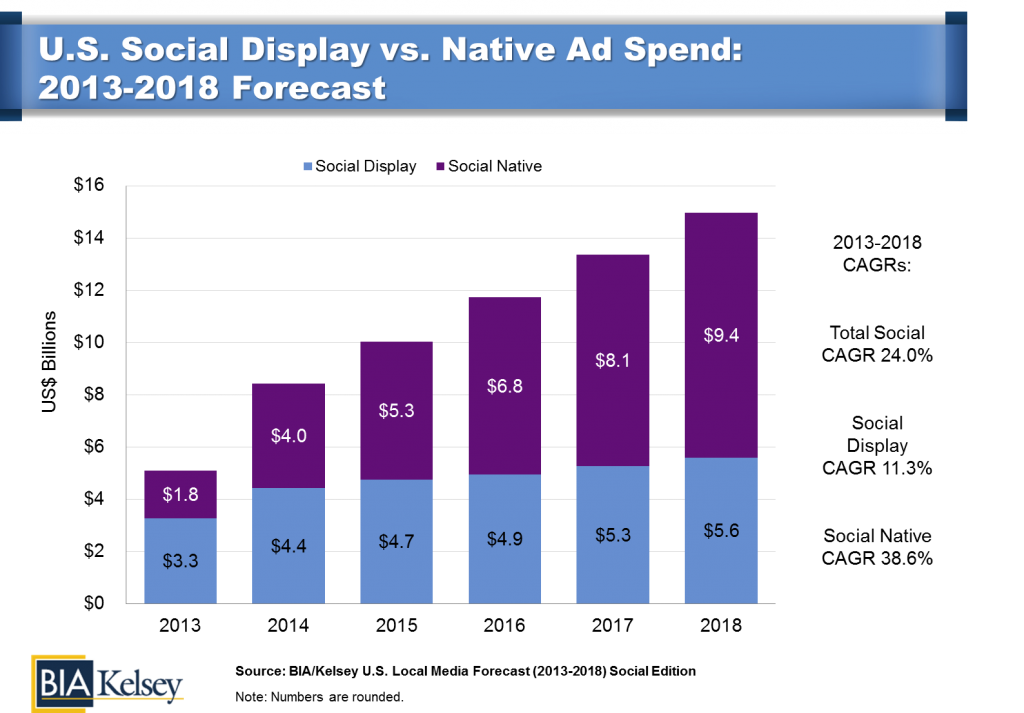 Social Ad Revenues on the Rise
The 2014 Social Local Media Forecast from BIA/Kelsey was recently released. This report projects significant increases in social media ad revenue. Social media ad revenue is expected to grow to $15 billion in 2018, up from $5.1 billion in 2013, a compound annual growth rate (CAGR) of 24%.
BIA/Kelsey expects 2014 social media ad revenues to reach $8.4 billion in 2014 compared to $5.1 billion in 2013. This increase represents the largest year-over-year increase in social media ad revenues. This significant growth is attributed to increases in mobile and native social media ad spend. Native ad spend includes those ads that appear within the content or feeds on social media sites. Facebook news feed ads and Twitter promoted tweets are the most common types of native ads.
Other projections in the 2014 Social Local Media Forecast include:
Mobile social ad spend is projected to pass desktop social ad spend by 2018
Targeted local social ad revenues are expected to increase to $5.2 billion in 2018. This represents a CAGR of 31.6% over the $1.3 billion spent in 2013.
Social display ad revenues are projected to grow to $5.6 billion in 2018 from $3.3 in 2013, a 11.3% CAGR.
In 2015, social native ad revenues will surpass social display, with native ad revenues of $5.3 billion compared to $4.7 billion of social display advertising.