Oct 11, 2021 |

3

minute read
Reading Time:
3
minutes
Despite the growing popularity of videos calls, most sales reps rely on phone calls to connect with potential clients. Why?
Response: Calling a lead ensures you will receive a direct response.
Personalization: Phone calls allow more room for personalization.
Flexibility: You can call a lead wherever you are. You don't need access to a computer and webcam.
But how do you find a prospect's phone number? Without the aid of a contact database, you're going to need to do some digging. To help you get started, we've compiled a list of methods below.
How to Find Someone's Phone Number Online
Web Search Engine: You can find practically anything on Google if you know what to search. To find a phone number, it's important that you provide as much information as possible. In addition to your prospect's name, make sure you include their industry, title, and their location. The more qualifiers you add, the more likely you are to receive accurate results.
People Search Engine: Similar to Web Search Engines, People Search Engines like AnyWho provide free contact data. Although People Search Engines can be helpful, they don't provide context. The data isn't organized by company.
Company Website: It's always worth checking the company website because sometimes they include contact data for their employees. If nothing else, the company website will provide their general company line.
Business Listing Site: Business listing websites, like Google, Yelp, and Bing, provides free contact data for thousands of companies. You can use these sites to track down direct numbers, department numbers, and mainlines. If you can't find a direct line, call one of the publicly listed numbers and ask around until you find the number you're looking for.
Social Media: Most social media sites require a phone number to verify your account. While many people choose to keep this number private, not everyone will remember to update their preferences.
Digital White Pages: Although physical phone books have gone out of fashion, digital white pages are still available online. All you have to is search the contact's name.
Consumer Watchdog Sites: If you're looking for an employee at a large company, they might be listed on a consumer watchdog site. If you live in the US, you can utilize the Better Business Bureau to find out more information about businesses.
Review Sites: Review sites like Yelp an Glassdoor usually include contact data for listed businesses. Because these sites function as advertising, listed businesses have an incentive to keep their contact data up to date.
Smartphone App: Apps like TrueCaller provide free contact data. All you have to do is download the app and search the contact's name.
…Intimidated? Fortunately, there is a simpler way to access contact data. Visual Visitor's Who to Contact database is equipped with over 540 million contacts. The best part is you can use it for prospecting and finding contact info.
If you're looking for new leads, you can search based on different factors like industry, location, size, and annual revenue. In addition, you can apply filters based on the type of contact you're interested in (job title, function, etc.)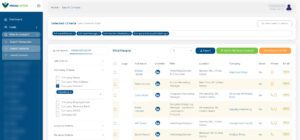 Applying filters will help you receive targeted results. Once you find a contact you're interested in, you can click on their name to find an overview of the company and all available contact data. What does this look like? Our software provides:
Direct lines
Cell phone numbers
Company phone numbers
Work email addresses
Personal email addresses
Covid has made it more difficult to reach prospects. Accurate contact data is more valuable than ever. Instead of wasting time researching contact data which may or may not be available online, use Visual Visitor to pull up accurate phone numbers at the click of a button.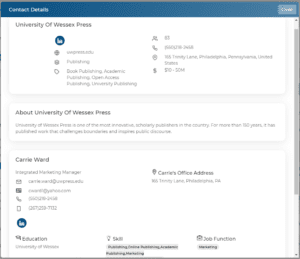 Interested? Sign up for a free demo today.