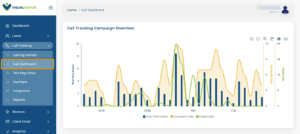 The term lead source refers to a marketing channel that introduces prospective customers to your business. This includes ads, social media profiles, links to your website-basically any marketing that's successfully directing customers to your business.
Identifying your lead sources is important. Some marketing channels will work better for your business than others. Investing in effective ads-and eliminating their unsuccessful counterparts-can save you thousands each month. It's entirely possible that free advertising, like social media and your website, is earning you more clicks than paid ads. Whatever the breakdown ends up being, it's important that you know which advertising is working.
But how do you know which marketing channels are working in your favor?
Keyword level call tracking lets you know which lead sources are inspiring phone calls. By assigning a unique phone number to each ad, you can match each inbound call with its corresponding referral source. This lets you measure which lead sources are directing phone calls and influencing sales.
Visual Visitor offers affordable and effective call tracking software. Every time one of our clients receives an inbound call, our software detects:
The caller's name.
Whether it's a first-time caller.
The duration of the call.
Which referral source directed the call.
Our call tracking software works in tandem with our website tracking software to collect click path data. What does this mean? Every time someone calls your business, we track their browsing history. We can tell you which pages on your site captured their attention. We even track how much time they spent looking at each page.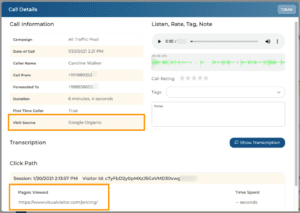 Visual Visitor can help you monitor your lead sources and improve your marketing ROI. Sign up for our 14-day free trial by clicking here. Find out how call tracking can help your business succeed.