Making the most of your Email Campaigns Overview Dashboard
Reading Time: 1 minute
By: Carrie Miller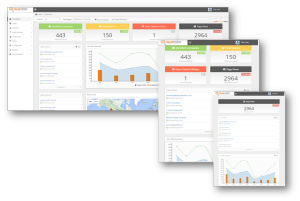 The Email Campaigns Overview section of the Visual Visitor dashboard is an extremely powerful tool that when used properly, can assist your business in multiple areas.  This feature allows you to track email addresses that come to your site through your email blasts via MailChimp, Constant Contact, etc. as well as emails that are sent to individuals. Wouldn't it be nice to know which links you send to your customers are getting clicked and how often those customers then return?  All you have to do for this to be a reality is to add the code that is created to the links in your email campaign and / or email.  Then when the recipient clicks on those links, they are tracked for that visit and all future visits.  See more on this feature Identify ANYONE…
Email Campaign Overview Graph
This graph will give you numbers on Unique Email Visitors, First Time Email Visitors, and Page Views.
Unique Email Visitors
– This number is the number of new and returning email visitors for that day.  Multiple visits by individual will not increase this number, this number is for unique visits only.  Subtracting the First Time Email Visitors from the Unique Email Visitors is also an important number.  Why?  If this number is high, it will show that your campaigns both past and present are keeping leads coming back to your site.  If not, then you know that you are not maintaining that interest.
First Time Email Visitors
– These are the visitors who are clicking on your campaigns and /or individual emails.  They are on their first visit to your site through a campaign and will be tracked as a returning email campaign visitor for future visits.
Page Views
– This number is straight forward; it is the total pages viewed by the visitors coming to your site through a new or past email campaign.  It is a great indication of the engagement level of your email visitors, and when compared with your full visitor page view numbers, you will see if your email marketing is on target.
Email Visitors Chart
This chart lists out your email visitors for the date range selected.  It can be changed to be in order ascending or descending by total page view numbers.  Again, this is a great indication of engagement levels for those individual email visitors.  You can do further research on the visitor and their viewing history by clicking on the magnifying glass to the left of the email address.  This will pull up the company bio, pages viewed, page view summary, research links, company contacts, keywords used, and campaign info.