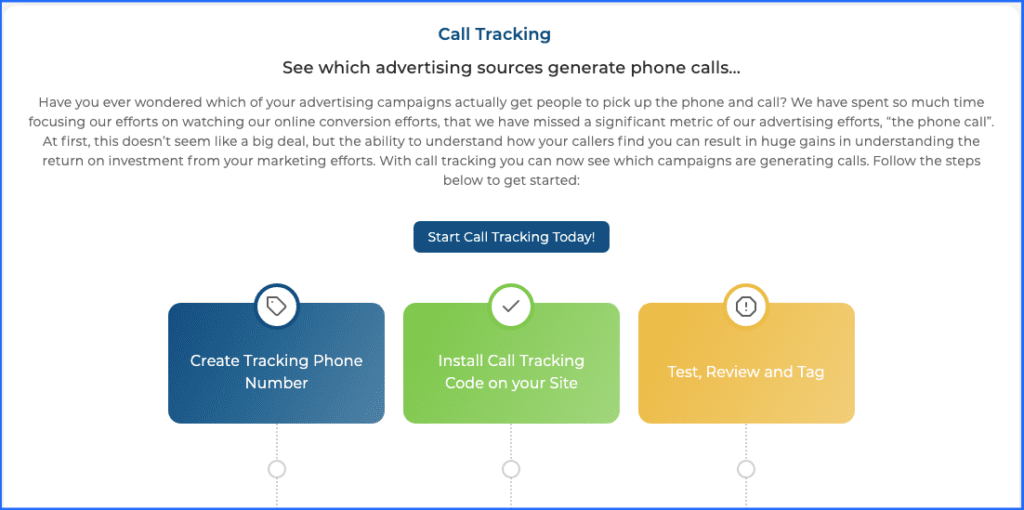 Kathy has owned Potomac Financing, an equipment leasing company, for more than 10 years. Despite investing in SEO and pay per click campaigns, she isn't seeing a great return on her investment. Her marketing strategy isn't working. And it's costing her a fortune.
Potomac Financing receives about 20 calls a week. If Kathy knew which referral sources were directing these calls, she could start investing strategically. A broad strokes approach is getting her nowhere. But how does she identify which ads are effective?
Kathy should invest in call tracking. Call tracking, the process in which you assign a unique phone number to each advertising channel, allows you to identify which ads are driving each call. Consequently, it helps you invest your marketing dollars intelligently.
But what if Kathy paid for keywords? In that case, she needs keyword level call tracking. This more sophisticated form of call tracking allows users to identify the specific keywords which influenced a customer to pick up the phone. For example, you'll know if a customer types "construction equipment leasing Bethesda" into a search engine before making a call.
At Visual Visitor, we believe the more you know about your leads, the easier it will be to pursue them. That's why we offer keyword level call tracking. We want to help you identify which advertising is effective. Eliminating unsuccessful ads and keywords can save you thousands of dollars each month.
How Does Call Tracking Work?
To initiate a new campaign, select the Numbers tab and then "add new phone number."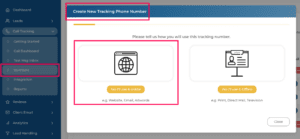 Visit your Call Dashboard to monitor the progress of your call tracking campaigns.

Scroll down to view specific calls and identify their referral sources and/or corresponding keywords.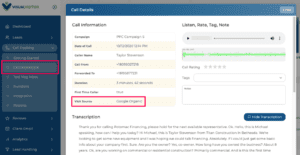 Interested in which keywords and referral sources are getting the most clicks? Head over to the Analytics tab and click Referrer.

Now that Kathy has invested in keyword level call tracking, she can save money and strengthen her marketing at the same time.
Are you paying for PPC or keywords? Discover which marketing strategies are paying off with Visual Visitor. Click here to sign up for our 14-day free trial.