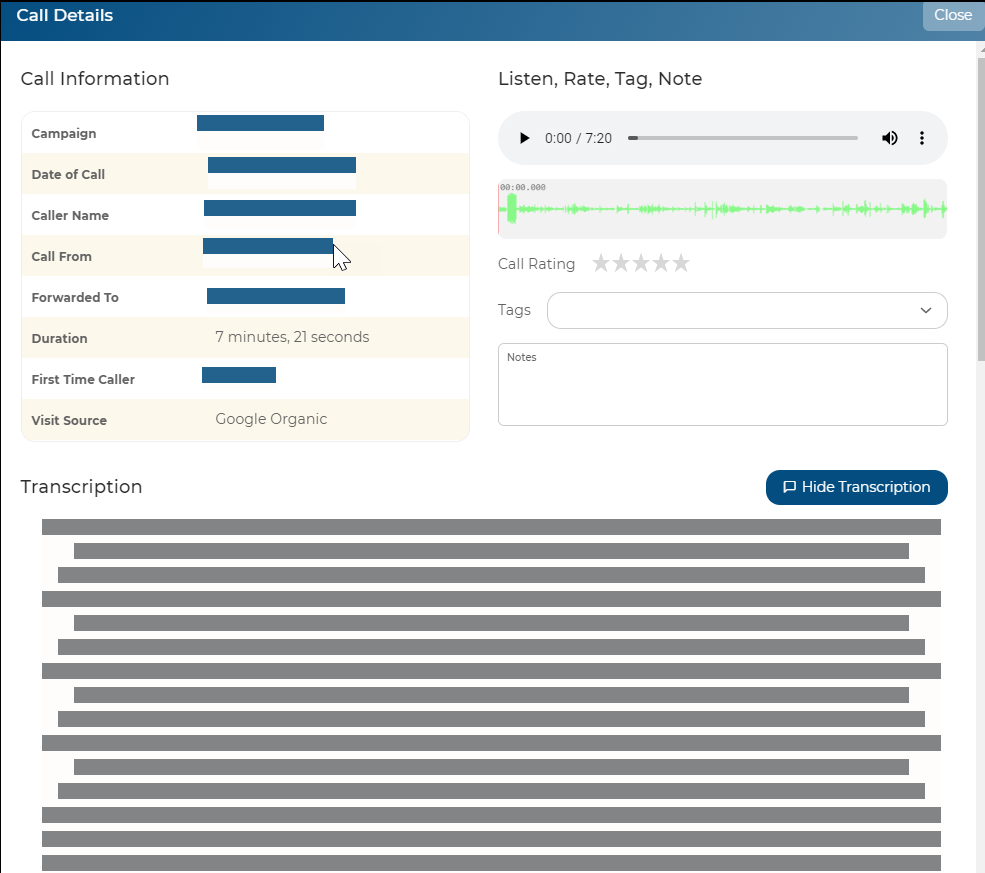 When it comes to advertising, there is no silver bullet approach which applies across the board. Some advertising will work better for your business than others. The key to organizing a successful marketing campaign is to identify which ads are working and eliminate those that aren't. That's where Call Tracking comes in. Not only can it provide you with valuable insights about your customers, it can also tell you which ads are generating clicks and inspiring sales.
Law firms especially stand to benefit from this practice. It helps you implement effective advertising. In a competitive industry like law, this can make all the difference. 
What Can Call Tracking Tell You?
Call Tracking lets you get to know your prospective clients. It provides you with valuable information including their browsing history. You can determine which services they're interested and whether they're likely to hire you. In short, you can identify which visitors are likely to become clients.
It can also help you improve your marketing. You can use its data to determine which ads and marketing strategies are paying off. Without tracking your calls, you're left in the dark about how your marketing campaigns are performing. You also won't have access to key information about your potential and current clients. Call Tracking helps you by answering the following questions:
Was our marketing campaign successful? Call Tracking identifies the referral sources which drive customer to call. You can track your volume of calls to learn which ads are bringing you the most business.
How can we improve our marketing strategies? Tracking software distinguishes good ads from the bad ones. You'll know which advertising channels are earning you business. You can use this information to make smart choices about how to invest your money.
Who is viewing our ads? Learn more about your potential clients and their interests. Call Tracking can provide you with contact information and browsing history. You can use this information to determine whether they're a good lead.
How can we save money? It helps you spend your money wisely. You'll know which ads are consistently earning you calls. You can use this information to reduce spending on ads that aren't pulling their weight.
What interests our clients? By examining a caller's browsing history, you can see which webpages captured their interest. You can identify which services they're interested in and even maximize your marketing efforts on your most popular services.
Keyword Level Tracking
Unlike other companies which offer Call Tracking, Visual Visitor provides Keyword Level Tracking. When a customer calls you, we can identify the keywords they searched. Why is this helpful? You can adjust your marketing spending accordingly. Investing in the keywords which are earning you calls will not only improve your ROI. It will increase your sales.
Our software identifies how customers are finding you and provides you with key insights about their previous interactions with your company. You'll know which webpages they viewed before and after making a call. And you can compare and contrast the merits of different advertising sources and keywords. Think of all the money you'll save when you invest in effective keywords and ads and eliminate the rest.
Primarily, our goal is to provide you with keyword analysis. We identify which referral sources and keywords are earning your clicks. Sign up for our 14-day free trial today and determine which keywords are worth your money.
Interested in Call Tracking? Click here to read more about it.