Sep 24, 2021 |

2

minute read
Reading Time:
2
minutes
Do you copy and paste your sales pitch into emails? This practice not only wastes your time, it can also lead to errors of miscommunication. You run the risk of skipping lines, a mistake which could cost you business.
Our template feature saves you the trouble of pasting in a message. With the click of a button, you can insert a template message directly into the body of the email. Why is this helpful?
It saves you time.
It ensures consistency.
It decreases repetitive work.
We want to help you (1) streamline your communication and (2) coordinate with your coworkers.
Our software allows you to create template messages for individual or company use. Sharing templates with your coworkers saves times and ensures your message is consistent across the board.
How do email templates work?
1. When you're ready to send a new email, select the Visual Visitor template icon.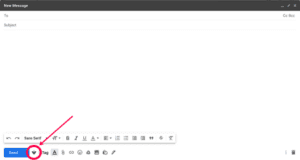 2. Use the dropdown menu to choose which template you wish to use. Select OK.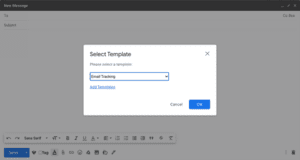 That's it! In two simple steps, you can automatically insert a template message into your email.
Don't waste time forwarding or pasting your message. Download Visual Visitor and take advantage of our resources for composing and sharing templates.
Your sales staff can also take advantage of the tag button. This feature allows you to track individual visitors. Every time a tagged visitor returns to your site, you'll receive a notification. And you have the option of viewing their browsing history. The best part is you can hit the tag button on a mass email blast. This allows you to effectively track your entire prospect base.
Interested in our email tracking tools? Get started writing, sharing, and sending template messages. Sign up for a free demo today.