Anonymous Website Visitor Tracking Reveals...

    Watch now to learn how it works!
Anonymous Website Visitor Tracking with Visual Visitor can increase your lead generation results and increase your sales!
We identify businesses as they visitor your website.
We tell you in an instant alert email what pages they visited, how long on each page, and more.
We provide you with a powerful dashboard that includes features like form capture, website visitor analytics, email campaign integration, reporting, and more.
What type of business is a good fit for Anonymous Website Visitor Tracking?
Visual Visitor has worked with many types of businesses over the years and has had great success in developing a product that works across many business models.
Businesses that see the best results with anonymous website visitor tracking will usually have one or more of the following characteristics:
Traffic to your Business Website
Business to Business sales model
Business to Consumer sales model with Email Campaign Marketing using Identify ANYONE
What does the data provided by Visual Visitor look like?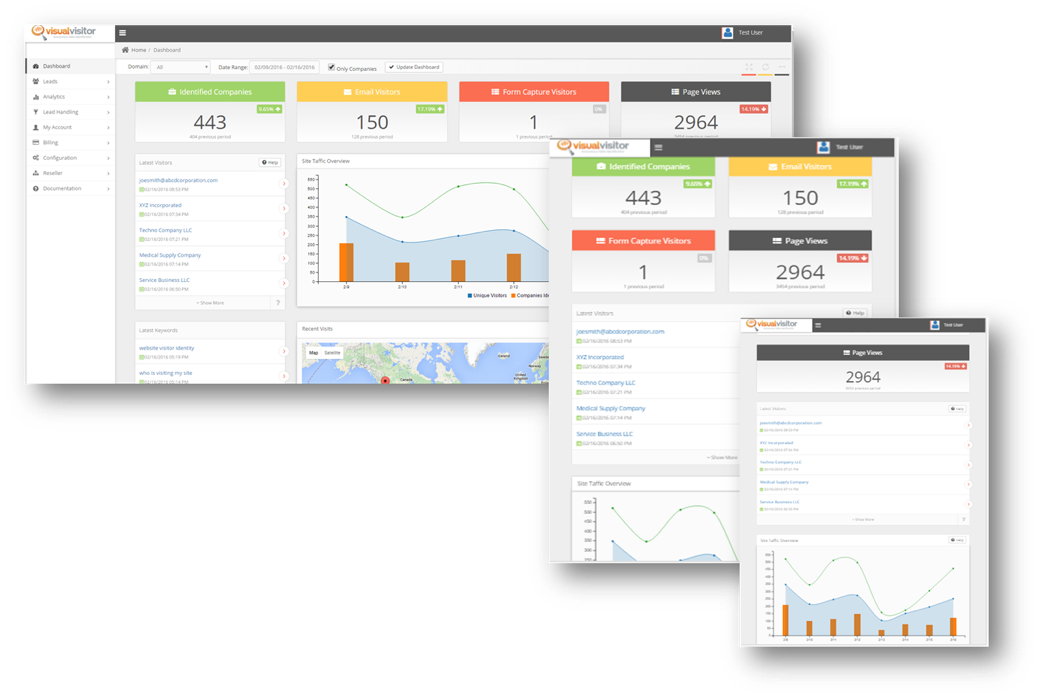 Visual Visitor has three ways that you can get your anonymous website visitor tracking data:
From an Instant Email Alert. This alert will provide you with detailed information about the visitor, their company, the pages viewed, their history, and also include research information like prepopulated links to research sites, keywords used, and any email campaign information.  This method does not require you to log in to the dashboard for any of the information about this visitor.
From the Visual Visitor Dashboard. We have a very in depth and intuitive dashboard available to our customers with live stats showing company visits, email visitors, form captures, page views, and more.  You can also see your latest visitors from the main screen, or go to the Search Leads page for a full listing.  From here you will also have the in-depth data mentioned above for each visitor.
Exported Listing. Not all data needs to be seen, and we have many customers who like to have their visitor lists exported and sorted in a way that is customized to their specific needs.  This option is available from our Report tab – along with other reports.
Important Questions When Considering Visual Visitor's Anonymous Website Visitor Tracking
Will my business grow if I am able to identify my website visitors?
Will my Sales Team be able to better serve our corporate customers from the insight provided from their website viewing patterns?
Will the qualified leads provided by Visual Visitor be useful to my sales organization?
With a 14 day Free Trial and a low cost of $59/month, can I afford not to try Visual Visitor?
Request a Demo
We would be happy to schedule a live demo of the Visual Visitor product with one of our knowledgable sales team!